Contact details

Mrs. MONICA WOOSNAM, ADPS Secretary, 24 Dysart Terrace, Canal Road, NEWTOWN, SY16 2JL

Telephone: 01686 627916 (9 to 5, Monday to Friday).

Email: secretaryadps@btinternet.com


---
- Assisting dealers in all aspects of trading for 55 years -

ANNUAL GENERAL MEETING OF THE ADPS



The 55th Annual Meeting of the ADPS Stamp Dealers' Society was held in Newtown, Mid-Wales, on 27 October 2022. The Chairman, Malcolm Tudor, reported another successful year in the Society's role of promoting the interests of its members, ensuring that customers have total confidence when buying or selling stamps, and supporting the development of the hobby. He said: 'We continue to benefit from having a full-time Secretary and an experienced volunteer committee, mailings of six bulletins and six newsletters a year, a strong online presence, and the opportunity for members to advertise in the journal and on the ADPS website 24/7. In her report the Secretary, Mrs Monica Woosnam, noted: 'The annual subscription has remained unchanged at only £30 since 2016 and all our services and publications are available online globally or by Royal Mail within the United Kingdom on request.' Webmaster, Gordon Bonnett, reported that The ADPS website www.adpsstampdealers.uk receives visitors from a wide variety of countries and that members' advertisements are a popular feature. The Society's officers and committee were re-elected: Chairman: Malcolm Tudor; Secretary: Monica Woosnam; Acting Webmaster: Gordon Bonnett; Additional Committee Members: Dr. John Horsey and Ray J. Howes.


---
SPOTLIGHT ON THE ADPS


The June 2021 edition of the world stamp trade journal, The Philatelic Exporter, included a full-page special feature on the Society, headlined: 'As it celebrates its 55th Birthday, Ray Howes of the ADPS provides a short history of the Society and what it has to offer the trader.'
The ADPS was founded in 1966 as the 'Approval Dealers' Protection Society.' It soon began to attract dealers selling by other means as well and so the name was subtly tweaked to the present-day title of the 'ADPS Stamp Dealers Society.'
Its activities include publication of the Bulletin and Newsletter, the safeguarding of members by warning of telephone and online scams, help and advice when required, and low-cost advertising in the journal and on our popular website www.adpsstampdealers.uk
The ADPS membership spans all parts of the United Kingdom and continues to expand overseas.
Ray concluded his article: 'As the ADPS continues to expand its enthusiastic membership, the Society will constantly strive to help all of its members to achieve success in whatever their stamp trading area.'
---
Keeping you posted

Members receive The Bulletin or Newsletter every month
(by Royal Mail, or by email on request)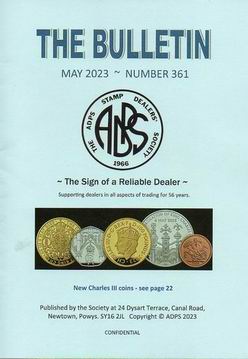 (Place mouse pointer over image to enlarge)